Academic Psychological Counseling Centre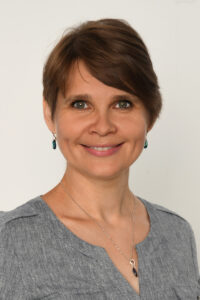 Psychological counseling is provided by Joanna Lewczuk, PhD.
Duty hours:
Tuesday – 9:00-11:00 MS Teams (team: "Społeczność ChAT")
Friday – 12:30-14:30 on-site, ChAT, room 109
or at other days and in selected form (e.g., a telephone call) after setting the date/time via e-mail j.lewczuk@chat.edu.pl
Important links
On the Polish Migration Forum website you can find a free emergency phone in English, Russian and Ukrainian as well as webinars for parents in Russian and Ukrainian concerning first psychological aid for children after traumatic experiences https://forummigracyjne.org/kursy
1. How to master anxiety, fear and helplessness?
It is impossible to completely master anxiety in the current situation. Tension or helplessness cannot be eliminated. The only way is to recognize it. Recognition that this will accompany us in the near future. Then choose the things that suit our needs, for here and now. What do I need? What will soothe me? Does what I do support me or weaken? Be with you, as much as possible. This can mean that you need to slow down, relax, and it can mean that you need to take care of something. If you have to act, and you do not want to – have for yourself a gentleness, a sip of empathy, do not require so much from yourself. Do not forget to be attentive to yourself and to be here and now. And being here and now is the reality, not our fantasies and imaginations about what will happen.
2) A webinar 'How to deal with anxiety in a crisis situation?' https://www.youtube.com/watch?v=vxvlEc8hjoo
3) A webinar 'How to talk to children about war?' https://www.youtube.com/watch?v=tBcblNPBlDU
FREE SUPPORT LINE FOR PEOPLE AFFECTED BY THE WAR CRISIS IN UKRAINE
A telephone support line was launched for those affected by the war crisis in Ukraine. If you or a close person need support, we encourage you to get help by contacting a psychologist from Monday to Friday from 9:00 to 21:00.
Other useful links:
1. Free support hotline for women: 800 909 444
2. DON'T BE SILENT WHEN YOU SEE VIOLENCE
3. Helping children and young people in crisis: The Ombudsman for Children has launched two channels of contact and opportunities to receive support for children and young people in crisis:
800 12 12 12 (24 hours)
https://brpd.gov.pl/sos-czat/ (secure online chat without logging in)
By making contact through these two communication channels, the children can get immediate support, share their experiences and together with the supporting adult think about solving their problems.
Details of the above actions can be obtained at the following link:
https://brpd.gov.pl/2020/12/07/startuje-calodobowy-dzieciecy-telefon-zaufania-i-czat-internetowy/