In this section we present information and guidelines from our partner, the International Programme "Bilingual children/Bilingual future".
How to implement the Universal Bilingualism Program – 3 steps
Do you want to implement the International Programme 'Bilingual children / Bilingual future'  in your facility, but do not know where to start?
Here are three simple and quick steps:
1. Contact our Regional Coordinator to prepare an individual offer. After placing an order, you will receive the materials even within 48 hours.
2.Read the introductory materials prepared for your staff, and if you have any questions, consult our methodologist, who is at your disposal throughout the implementation and realization of the Program.
3. Start your daily fun!
Regional Coordinators are waiting for your call:
Do you have questions about the teaching method?
Contact Maja Wrzos (Director for training and methodology of the Program) – tel. 513 746 080
e-mail: m.wrzos@dwujezycznedzieci.pl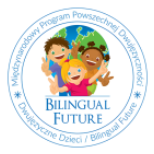 Together we will create a bilingual future for our children! What do you gain with the implementation of the Program?
You implement a new standard in education in which children are raised in bilingualism with local and global language – English. This global language children learn naturally, i.e. on the same terms as the local language – directly from the context.
You actually use the competence of educators without language qualifications and English teachers!
The universal course for nurseries and kindergartens in the standard version is addressed to educators without language qualifications (the educator is the organizer of everyday contextual games aimed at listening – development of passive language skills). For English-speaking educators, versions Plus and Expert are prepared (the teacher is an organizer of interactive games aimed at developing active language skills).
You implement a system configured for both remote and on-site work that teachers can use during regular classes, as well as caring and educational ones.
You effectively implement the recommendations of the program curriculum concerning not only linguistic development, but also activities: musical, rhythmic, movement, artistic, theatrical with the support of audiovisual materials.
You receive constant technical and substantive support from us during the implementation and realization of the Program.